Lets Get More Value From Your Digital
Far from a soapbox for us to boast our winning campaigns. These audits are all about you. Your vision, your brand, addressing your digital challenges.
Brands we've audited…

Delivered in a 1.5/hr video meeting, entirely complimentary. No expectations from our end.
This isn't a bog-standard SEO audit tool…

We're not the agency to share a AHrefs export, we refuse to spit back reems of unactionable metrics…
Everything we do is through the lens of your brand's story, analytics, rankings and direct competition.
Over a call, our consultants will take the time to work out how your brand can get then most value out of it's digital strategy.
Withing a week, we can return with no-nonsense data, just honest, plain-speak advice you can use to grow organically.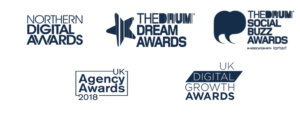 We assess digital competence across 3 core pillars, we believe these pillars make foundations to fast track growth:
Tech SEO
The fundamentals, does your site meet best practices? Are you in the right place technically for stratospheric growth?
 Site structure – the basics, are your foundations well-laid? Have previous webmasters taken shortcuts?
Intent analysis– SEO is less about keywords these days and more about servicing user intent. While keywords still matter, we discuss them through the lens of intent.
Technical Analysis – 1-2/hrs of an SEO consultant under the hood of your site. They'll return actionable recommendations.
Content & Experience
Awareness – Is the road paved for the user? Is onsite content genuinely valuable, selfless and well-placed?
Consideration – Do you answer all the questions customers have? Can your guide/Q&A and brand content differentiate you from your competition?
Intent – Is the right content in the right place? Are you generating traffic that makes purchases?
Digital PR & Link profile
Link Profile management – are you making the most of your existing links?
Digital PR – are your links part of the brand XP, or a detached SEO-play?
Book a call with a consultant we'll find how to bring value back to your strategy.
Why do this for free?
You guessed it, for us, this is a chance to impress a potential client. However, don't feel pressurised, we're just as exited to share sound digital advice as we are to create holistically valuable campaigns