About Our UK Baby Products Industry Analysis
2021 was the year of lockdown babies, and there's been a lot of lockdowns. Compounded by restrictions on high-street shopping, how baby product brands perform online post-lockdown will be a defining point for their future success or failure.
Just how well each of the top 47 baby product brands performed over the past 12 months is what we uncover in this report.
Pram World lead race in user reviews

Pram World not only leads the way, but they also lead with a joyous iron fist of customer satisfaction. An average rating of 4.7 (near perfect) and over 32,000 reviews. 11,000 more reviews than the next brand Online 4 Baby which clocks in at just shy of 22,000 reviews.
Baby Center demand attention on social
Another outlier is Baby Centre's ability to amass social following. With a whopping 4 million social followers across Twitter, Facebook & Instagram. 2.8 million of which sits on Facebook alone – a key platform for the baby products industry. Posting multiple times a day, their making great use of their audience. Curated content for the audience is consistently shared. Articles such as " Confession: I don't like being pregnant" preforming home run's in engagement.
Industry staples lead the way in brand reach 
Some of the names we're all familiar with of course winning in total brand reach. In order these are;
Mamas & Papas
Tommeetippee
Jojomamanbebe
Babycenter
Vertbaudet
Stoke
We work out digital brand reach out through a combination of average monthly search volume & owned social score (a calculation of total social following)
buybuybaby.com adopting bad link building practices?
The visibility vs referring domains section of the report looks at overall search visibility metrics in contrast to total volume of referring domains. Comparing these two can revel holes in a linkbilding strategy, or even un-cover evidence of suspect practices.
Buy Buy Baby garners a huge volume of referring domains while only having a comparatively low organic visibility score. There could be a few things here which require investigation in order to define a solid course of action. However the gain of nearly 3K referring domains in December is alarming:

From the back: Hello Baby Direct makes a run at mid-market
A brand full of digital marketing moxie this last 12. Months is Hello Baby Direct. Making an incredible run from position No.45 in our overall organic visibility table to No.25. An incredible jump in little over a year, growing 277% over average market growth. If momentum can be maintained in 2022, expect to see this brand reaching for one of the top ten spots.
Shoppers return to stores? Less market interest YoY
Lots of wild fluxations in general consumer demand across the baby products space. 2020 saw demand rise 24%, 2021 saw demand fall -13%. To boot, any traditional seasonality looks to have gone far out the window post 2019 / coronavirus. It's difficult to say what'll happen next.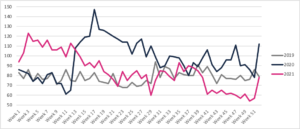 Parents on the move: Bag products see's demand surge in Q4
A booming trend in Q4 2021: parents seek out utilities to carry even more baby products. Difficult to say exactly why, but huge swath of emerging products are bag related.
Market leaders losing brand interest
Some notable brands in taking a hit in average monthly search volume are:
Mamas & Papas (-1%)
Jojomamanbebe (-7%)
ELC (-32%)
Vertbaudet (-30%)
Maxi Cosi (-29%)
Are these reports free?
All of our reports are free for public viewing and all you need to do is download it using the button above. We analyse top brands and industries that we think we could add value to and that's why we don't believe the data we find should be hidden.
Which are the biggest online baby product sellers in 2020?? 
The biggest brands for 2020 in terms of organic visibility are: 
<ol> 
<li>elc.co.uk</li>
<li>preciouslittleone.com<li>
<li>kiddies-kingdom.com<li>
<li>pramworld.co.uk<li>
<li>jojomamanbebe.co.uk<li>
<li>online4baby.com</li>
<li>vertbaudet.co.uk</li>
<li>pramcentre.co.uk</li>
<li>Pram Centre</li>
<li>naturalbabyshower.co.uk</li>
</ol>
Which Online Baby Product Sellers Have Seen the Biggest Growth in 2020?
<ol>
<li>kiddies-kingdom.com (98%)</li>
<li>pramworld.co.uk (46%)</li>
<li>online4baby.com (46%)<li>
<li>preciouslittleone.com (15%)<li>
<li>naturalbabyshower.co.uk (28%)<li>
</ol>

Which Online Baby Product Sellers Have Seen the Biggest Losses in 2020? 
<ol> 
<li>mamasandpapas.com (-18%)</li>
<li>maxi-cosi.co.uk (-27%)</li> 
<li>hipp.co.uk (-33%)</li>
</li>britax-roemer.co.uk (-38%) </li>
</li> buybuybaby.com (-64%) </li>
</ol>
What is the baby product market size in 2020? 
Based on Google Trends data using the most prominent search terms in the market, organic search interest is set to grow 1.7% From Jan '19 to Jan '20. 

For the full data, download the report. 
Why can't I see my brand on the report? 

This report considers the 48 biggest brands based on their online prominence. You can see all the brands considered at the top of this page. If you haven't been featured, but you'd like to see where you sit in the market, get in touch via our live chat or contact page.