The Baby Product Market Lowdown by Liam Porter - Salience Head of Content & eCommerce SEO expert.
Our head of content takes a look at the changes to the baby product market, 12 months on from our last annual report. Analysing the share of voice in Google, brand reach and several other important digital metrics, he presents his take on the winners and losers of the last year with some general advice on where brands in this industry should focus over the next 12 months.
A quick introduction from Liam…
Hello, I'm Liam – Head of Content at Salience. I spend my days delving into all things search and digital marketing and have spent the last few analysing the Baby Products Market. I'm 5 years into my search career and have worked on several award-winning campaigns. Let's kick things off with my headlines…
Liam's Baby Product Market Headlines:
This is a volatile market with big shifts in visibility for most brands.
Most brands have seen their share of the online market reduced (by an average of -12%) making now the time to invest in SEO, PPC, and Digital PR.
Mamasandpapas have bucked the trend, in our top 3 most visible baby product brands, and have grown their online market share by 18%. When compared to the rest of the market, this equals a 31% upwards shift. That's because the average visibility change across all top 50 brands sits at -12%.
Kidly.co.uk are worst affected, with a 63% drop in visibility and dropping out of the top ten to 17th place. Vertbaudet has also dropped significantly, from 11th to 18th most visible.
How has interest in baby products shifted?
Interest is dropping in big, staple baby product items – think, prams and strollers. Instead, growth is in products with lower price points which are essential to the health and happiness of our little counterparts.
Baby essentials, for example, has seen a 14% growth, now landing 9900 monthly searches.
Interestingly, searching this term presents mixed results. Half the results are informational – blog posts around must-have baby products – while the other half are commercial product listing pages (PLPs).
Liam's quick tip…
If I were working in this space, I'd build a navigational landing page (brand.com/baby-essentials) which provides both links to commercial PLPs and to content that supports users in making a decision.
Off this, I'd sit a number of subcategories i.e. /baby-essentials/formula and guides, i.e. /baby-essentials/baby-essentials-guide.
This hybrid approach would make your brand the only one to serve both intents and provide users with the correct journey for their intent; currently, sites are either presenting users with products when they aren't yet ready to buy, or information when they're in market to buy, not learn.
Opportunity keywords:
Who's winning at page speed?
Pramworld.co.uk are the only site with a greater mobile page speed score than desktop – 72 vs 17, respectively. Optimising for mobile is definitely the right approach with the bulk of users engaging through those devices, and therefore, search engines favour mobile metrics. Kudos to the team at Pramworld, their mobile score is actually the fastest out of all the brands we analysed.
At the opposite end of the spectrum, Olivers Baby Care are struggling with page speed. With desktop and mobile scores of 29 and 21 respectively, they're definitely holding their ranking potential and therefore share of the online market back. However, they've done well in other areas and have seen visibility improve by 140%, moving them up from position 46/50 to 32/50. Two points here:
You can still grow with a slow website, but your ceiling is lower.
If Olivers Baby Care implement some quick wins on those scores, I'd happily put them on my brands-to-watch list over the coming year.
What's happened with brand awareness?
Something is awry over at Precious Little One HQ – they've seen an 87% decrease in the number of people searching for their brand. They could benefit from some digital PR and paid social to get their brand back in the forefront of their target market's mind.
I'd recommend they take a look at Little Angels Prams' approach to brand-building. They've seen a 60% increase in brand searches this year to last. From a social perspective, they're working Instagram well, using stories to segment their different USPs, showcasing real customers, providing demos and even advertising their charity fundraising. Also, they clearly present their Klarna payment option in their profile description. A clever approach to promoting recall in a time when the cost of living has everybody for a deal and spread payments.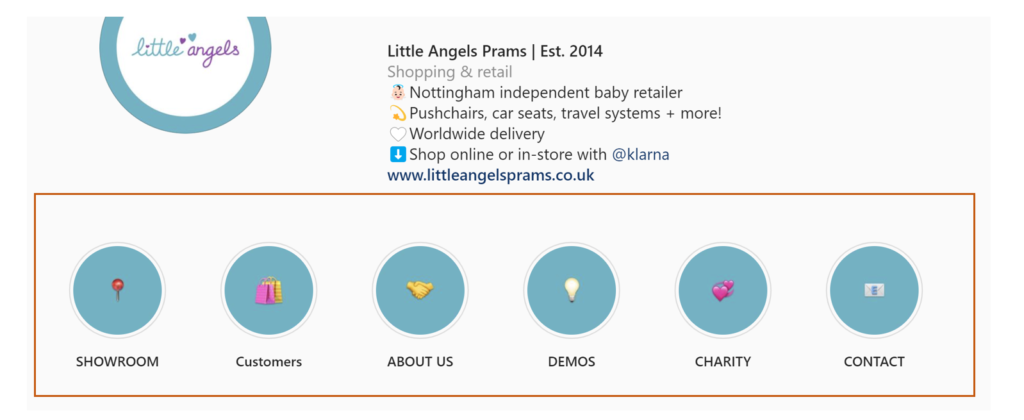 Liam's final thoughts…
Consumers in this market will always look at safety and quality as key to their purchase decision, regardless of cost. Granted, the cost of living will mean greater research and fewer impulse purchases but the cost will never be the driving consideration.
On that, brands need to start promoting concepts of safety and quality through all channels. Consider how trustworthy your brand comes across through your entire marketing strategy and focus on quality to separate yourself from the growing discount brands.
It'd also be wise to push attention to middle price-point products. Product trends indicate consumers are looking to increase quality through accessories to existing products rather than buying expensive new products outright. So, rather than buying a brand new pram with a sunshade or umbrella, they're looking for the same technology they can attach to their existing setup.
Are these reports free?
All of our reports are free for public viewing and all you need to do is download it using the button above. We analyse top brands and industries that we think we could add value to and that's why we don't believe the data we find should be hidden.
Which are the biggest online baby product sellers in 2020?? 
The biggest brands for 2020 in terms of organic visibility are: 
<ol> 
<li>elc.co.uk</li>
<li>preciouslittleone.com<li>
<li>kiddies-kingdom.com<li>
<li>pramworld.co.uk<li>
<li>jojomamanbebe.co.uk<li>
<li>online4baby.com</li>
<li>vertbaudet.co.uk</li>
<li>pramcentre.co.uk</li>
<li>Pram Centre</li>
<li>naturalbabyshower.co.uk</li>
</ol>
Which Online Baby Product Sellers Have Seen the Biggest Growth in 2020?
<ol>
<li>kiddies-kingdom.com (98%)</li>
<li>pramworld.co.uk (46%)</li>
<li>online4baby.com (46%)<li>
<li>preciouslittleone.com (15%)<li>
<li>naturalbabyshower.co.uk (28%)<li>
</ol>

Which Online Baby Product Sellers Have Seen the Biggest Losses in 2020? 
<ol> 
<li>mamasandpapas.com (-18%)</li>
<li>maxi-cosi.co.uk (-27%)</li> 
<li>hipp.co.uk (-33%)</li>
</li>britax-roemer.co.uk (-38%) </li>
</li> buybuybaby.com (-64%) </li>
</ol>
What is the baby product market size in 2020? 
Based on Google Trends data using the most prominent search terms in the market, organic search interest is set to grow 1.7% From Jan '19 to Jan '20. 

For the full data, download the report. 
Why can't I see my brand on the report? 

This report considers the 48 biggest brands based on their online prominence. You can see all the brands considered at the top of this page. If you haven't been featured, but you'd like to see where you sit in the market, get in touch via our live chat or contact page.