What this Beauty Retailers Market report is all about...
Every year, we produce an online performance report on the UK beauty market. This is the latest edition for 2019.
Our aim is to provide sector professionals with a bigger insight into their beauty industry trends 2019 in terms of data and to see how they fit into their digital landscape. Where do they measure up when it comes to their competitors and why?
In this report, we look at the current top websites within the cosmetic industry, analysing where brands are doing well and where they could make improvements. We score key performance areas and gather accurate metrics including Link Authority, Pagespeed Score and SEO Visibility which change year on year. So, you can see how the landscape has changed around you.
The report now only includes data from the best performers in the industry, but we source data across the whole industry to produce this report. If you can't see your name on the list, just ask and we'll be happy to send you through the data that includes your company.
Our Beauty Retailers UK Market analysis
Once we've gathered the data to use in the report we then go and analyse the market ourselves to ensure that the results are accurate and discover a reason behind the wins and losses. Below are our findings from the beauty industry analysis report and some standout performances from certain brands.
Wins and Losses in the Beauty Market
Boots remains the market leader despite a huge 41% loss in visibility year on year.
Superdrug has taken back their 2nd place spot, overtaking QVC after a 36% visibility improvement. QVC lost 15%.
Feel Unique is next with a 10% visibility increase.
Making up the top five is Look Fantastic who lost 3% visibility this year.
The rest of the top ten has seen some great wins and some minor losses:
Fragrance Direct (-11%)
Cult Beauty (+49%)
The Body Shop (+13%)
MAC Cosmetics (-7%)
GHD (+3%)
We'll see why these visibility wins and losses may have occurred throughout the post.
Keyword Opportunities for Beauty Retailers
We produced a list of top competition and biggest opportunity keywords for Beauty Retailers which you can find in the report.
As you'd probably guess, the most competitive keywords are the ones which are the most generic such as foundation, hairspray, perfume etc.
Even the Opportunity keywords are quite generic, so page titles and meta descriptions are ever more important to stand out in this market.
A huge well done to Feel Unique who is ranking for this year's highest competition keyword, 'makeup'.
After Cult Beauty's massive increase in visibility, they are now ranking in position 1 for the terms 'skin care' and 'concealer' and position 2 for 'makeup'.
Superdrug is also ranking in position 1 for keywords like 'foundation', 'dry shampoo', 'lipstick' and 'mascara'.
Despite ranking in P1, Superdrug should look at tidying up their URL structure for category pages. Currently, the URL is extremely messy and contains percentage signs, numbers, upper and lower case letters.
Having a neat URL structure makes it easier for search engines to crawl the page. It also makes it easier for users to share.
Regardless of how big a brand you are, don't rest on your laurels when it comes to SEO basics!
Make sure to stock beauty advent calendars for the 2019 Christmas peak
While, according to Google Trends data, search interest for beauty advent calendars is down 5% from 2017 to 2018 terms relating to this have been on a heavy increase since 2014 – up 171% over the last five years. Given the seasonality of the term, it's somewhat hard to parse historically, however, the head term for 2018, 'beauty advent calendar 2018' looked to be around 30,000 monthly searches during the Christmas peak. When combined with the non-date variant and the endless possibility of long-tail variations, it's clear to see that you need a landing page and set of products for beauty advent calendars in 2019.
What's more interesting, perhaps, is the clear lack of effort from brands, both for organic and shopping ads.
SERP results for the term kickback lots of best lists from the likes of Cosmo & Marie Claire currently. I'd expect a few of these results, however, you'd expect to see more of the powerhouse retail brands in here. If you need further convincing of the absolute state of these SERPs…

This appears on page one; yes, Debenhams is an absolute killer domain, but the combination of poor title tag & URL, no meta description and a non-loading page tells you all you need to know about how much effort is going into this lucrative keyword set thus far.
As for shopping ads, there's evidence that brands are having trouble segmenting their shopping feeds. While this isn't easy to do, compounded by Google no longer offering shopping campaign support, you don't want anything but beauty-specific calendars to appear in this specific search term's feed. Speak to our paid media team if you'd like help properly segmenting your shopping campaigns.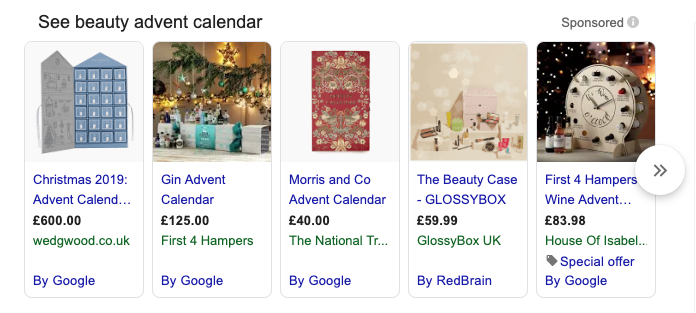 Knowledge is Beauty
Not all of these keywords have an intent to buy behind them. Some are looking for advice, tutorials or how-to style posts.
How do we know this? We Googled the terms and looked at the results.
A brilliant example of this is 'smokey eye makeup' which brings up this fantastic smokey eye makeup lesson from Bobbi Brown.
This step-by-step guide also has links to products in each step – a perfect integration of shoppable content.
Providing this type of content can get you to the top of the search results for high volume keywords that have less competition. This is especially helpful for sites currently working on improving their visibility or those who struggle to compete with the biggest brand names.
Link Building in the Beauty Sector
Link building in this sector is as much about increasing brand awareness as it is about improving your link profile. Links are still a primary ranking factor for Google, so improving your link profile goes hand in hand with improving your rankings and other site metrics.
Boots is top of the list for links with the highest average number of links gained per month. However, most of these are going to products.
Boots used to have a partnership with renowned health website, WebMD. However, they no longer work with them.
Currently, their articles from the webmd.boots domain go through to a page which gives you the option to either go to the Boots website or through to WebMD. This means that any links gained on these posts (and there are a lot!) are likely being split between the two sites.
The ideal solution for Boots would be to redirect these posts to somewhere else on their site, allowing them to gain the most out of the link equity.
The Body Shop has a fantastic bed of content on their Tips & Advice section which features expert tutorials, articles and information on the campaigns they support. This is a great asset for their consumers who are interested in ethical causes and change.
Their Commitment Against Animal Testing page has gained over 100 backlinks, including one from Forbes, Refinery29 and Popsugar.
A lesson to learn here may be to put your brand story and views out there for people to engage with.
Watch and listen
Another brand not afraid to share their ethical views and opinions is Lush.
Lush has an extremely interesting take on content marketing.
Instead of producing a digital magazine, they have their own video, music and podcast platform called Lush Player.
They produce original interviews and cover topics such as cooking, world news, politics and entertainment.
This is gaining high quality links from the likes of NME, Joe and Medium. This is a super innovative way of link building and one we've not seen before, especially within the Beauty industry.
Get inspired…
Take a look at this article on creating a content outreach email that will get results.
We launched a brand new digital magazine called The Highlight in this market in 2017. This gives a good example of how to approach your awareness based content which will bring in those valuable links.
Social Media for Beauty Retailers
Beauty is the perfect industry for social media, with so many influencers, vloggers and bloggers having started their journeys on social media platforms. This is the ideal place to grow your following, interact with your target market and gain an owned audience.
L'OCCITANE is topping the social charts with an impressive number of brand searches per month and a high owned social score.
Their Facebook feed contains mostly product promotions. They also promote events at their spa.
They do get a lot of engagements on their post which is likely due to the fact that they have over 5 million followers. However, we would urge big brands never to take this for granted and to continue to focus on social as a vital part of their digital strategy.
Don't gloss over bad publicity
MAC Cosmetics was in the news for the wrong reasons last year when it was revealed that, despite stating they are a cruelty free brand, they operate in countries where animal testing is mandatory on cosmetics.
This stigma has evidently stuck which can be seen when browsing through their Facebook feed. Almost every post has a reference to 'animal testing' within the comments.
The good news is that instead of burying their heads in the sand, MAC has responded with information regarding their standpoint on animal testing by linking to a page on their site.
It's important to continue to engage with and educate your customers to try and repair relationships where possible.
Instaglam
When it comes to social in this sector, Instagram is the platform to really show off products and gain engagement.
One brand that really knows how to engage an audience through Instagram is Revolution Beauty who has a huge 1.6 million followers on the platform.
They collaborate with influencers from Instagram and YouTube to create some of their collections – a super smart social move which ensures an instant connection with thousands of potential new subscribers every time.
They post a lot of tutorial videos on how to use their products along with pictures of swatch samples on different skin tones.
Their tone is perfect for the snake person audience which shows in the number of followers they have.
FAQs
How much does it cost to download the full report?
We don't charge for our report. We work with data constantly to inform our strategy and by sharing some of what we learn, we hope it will help you too. Download the report.
Which are the biggest beauty brands online in the UK this year?
Here are some of the biggest online beauty brands in the UK:
Boots UK
Superdrug
QVC
Feel Unique
Look Fantastic
Fragrance Direct
Cult Beauty
The Body Shop
Mac
GHD
Which brands have seen the biggest growth since 2018?
These brands have seen the most market growth since 2018:
Superdrug (36%)
Cult Beauty (49%)
Revolution Beauty (∞%)
Feel Unique (10%)
The Body Shop (13%)
Which brands have seen the biggest decline since 2018?
2018 was not the year for these brands. While several appear in the top 10 list of brands, they are evidently losing ground to some of the agile, internet-only startups.
Boots UK (-41%)
Lush (-42%)
QVC (-15%)
Healthspan (-84%)
Fragrance Direct (-11%)
Is my brand on the report?
You can see the brands we've listed at the top of this page. If you're not featured, it may mean your online visibility is below the threshold to be featured in our report. If that's the case, or believe your omission is a grave error on our part, please get in touch.