What is the Beauty Retailers Market Report?
This is the Beauty 2022 Salience Index. The UK's best search marketing report. Created with CEO's, eComms and marketing leaders in mind. We take the UK's leading beauty brands and score them across the most important search ranking benchmarks.
Who's winning in Beauty?

Boot's, the multi category retailer, has historically always taken our No.1 spot in overall organic visibility. Once again, that's the case going into 2022. Although, it's a somewhat unfair rank to place, given the retailers expanse across so many other categories, pure play competitors are at a disadvantage on simply the account of website. A pure play competitor, however, takes our No.2 slot: QVC UK
There's been some Impressive sleigh drives up the league table this year. w7makeup, Shein.co.uk, Blow LTD and Regis Salons each climbing over 10 ranks a piece. Growing at well over double the speed of markets average.
w7makeup, has climbed just shy of 20 ranks to take a spot as the 31st most visible UK beauty brand. Hat's off to anyone working in any of the above digital teams.
QVC UK, Look Fantastic, Harvey Nichols & Feelunique: long time top ten veterans have seen stagnation in 2021. All seeing negative viability change. When we've seen this in other sectors, it signals changing of the tides. The smaller, scrappier brands will be looking to take a jab wherever these behemoths are caught lacking.
A Dimond in the rough: Nonito.
Another breakout brand this year is Nonito, growing overall organic visibility by 97% in just twelve months. Seriously impressive stuff. If we had to take a guess, in 2022, they'll easily be vying for a spot as one of the top ten brands.

Poor page speed for top brands
Boots, Birchbox, MAC Cosmetics; not brands you'd expect to be bottom of the pile in terms of page speed. All sites failed Google Page speed's Core Web Vitals Assessment. If you're reading and work at any these brands, it's probably already on the radar to address in 2022. If not, take this as your sign. You can scrub up on the importance of page speed with a post we made here.
Nearly ½ of UK beauty brands have a 4* Trustpilot rating
Trust, in the beauty industry, is crucial. It's difficult to understate the value of a strong online trust profile, whether is Trustpilot, Feefo, Google reviews etc.

Consumers must have faith in your brand to wear its products. A well-managed, front facing trust profile could be the key to convincing swaths of on the fence customers to buy. Much of the industry is aware of this. Brands are clocking in an average 4* rating.
The industries median score is 3.9*. Any brand not achieving at least this, have a major handicap. Customers in this space are accustomed to brands giving good quality products and top-notch service. Buyers are already in the mind to expect a healthy trust profile as standard.
A new queen of brand?
Charlotte Tilbury seizes Boot's position in total digital brand reach. A score combining total social following & monthly brand searches. Whereas Boots garners more monthly brand searches, Charlotte Tilbury blows Boots out of the water in terms of social following. Amassing an impressive 45 million (and counting) social followers across Twitter, Facebook & Instagram alone.

Heavy link profiles, no impact.
Page 47 compares overall organic visibility vs volume of referring domains. See Below: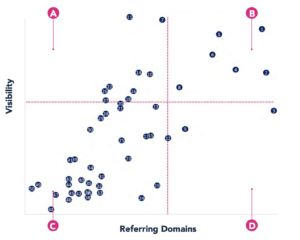 In quadrant B, we have brands that in volume of referring links are real world beaters. However, the links are having little affect on organic visibility. Lots of potential issues here, from just having straight up spam links, to poor strategy. Some huge names falling into this bracket, with the right approach, links could change the growth trajectory of a brand.