What is the Car Dealership Market Report?
In our 2020 online dealership report, we analyse the car sales industry brands such as Autotrader, motors.co.uk & Parkers.
We've created a digital ranking to help car dealership brands understand where they score in comparison to the competition.
What's in the 2020 Car Dealership Market Report?
This report consists of car dealership industry trends & 'league tables' measuring brands on metrics that are considered essential for ranking in Google.
A low score across all categories will yield in poor online performance.
Using our car dealership industry analysis can create a yardstick for you to understand what needs working on to improve how well you are seen online.
The winners and losers in the car dealership industry
The car dealership market has grown +15% in the last 12 months.
We work this out by measuring the total online growth of 33 different dealerships over the year.
So, if your brand has not grown over 15% this year, the market is getting ahead of you.
Some car sales brands this year have taken a beating:
Which car dealerships have seen the biggest losses in 2020?
Parkers.co.uk (-29%)
ArnoldClark.com (-33%)
Driving.co.uk (-64%)
stoneacre.co.uk (-40%)
carshop.co.uk (-40%)
On the flip side, some brands have accelerated ahead of the market. These are our 'winners'.
Which car dealerships have seen the biggest growth in 2020?
autotrader.co.uk (+20%)
motors.co.uk  (+61%)
cargurus.co.uk (+289%)
autovillage.co.uk  (+172)
buyacar.co.uk (+63%)
Which are the biggest car dealerships in 2020?
Here is a quick rundown of the top 10 car dealership industry sites:
autotrader.co.uk
motors.co.uk
parkers.co.uk
pistonheads.com
lookers.co.uk
evanshalshaw.com
raccars.co.uk
arnoldclark.com
cargurus.co.uk
buyacar.co.uk
What high competition keywords are available for car dealerships?
High competition keywords are where all the competition are – its competitive.
It helps to understand what the high competition phrases are, what sites are already achieving them and how?
Find what is working, reap the rewards.
Related – Car Finance Market Performance Report
High competition keywords are typically dominated by big sites i.e. Autotrader.
These big sites are usually pretty good. They are large with a sound technical setup.
Snoop on them and see how they are structuring their pages. Learn what they're doing to rank on competitive keywords.
"buy a car" – the most competitive keyword car dealerships battle for. The top position means being the first brand seen by 60k monthly searches.
That's 60,000 people who ACTUALLY want to buy a car seeing your forecourt every month.
Enter the high competition table: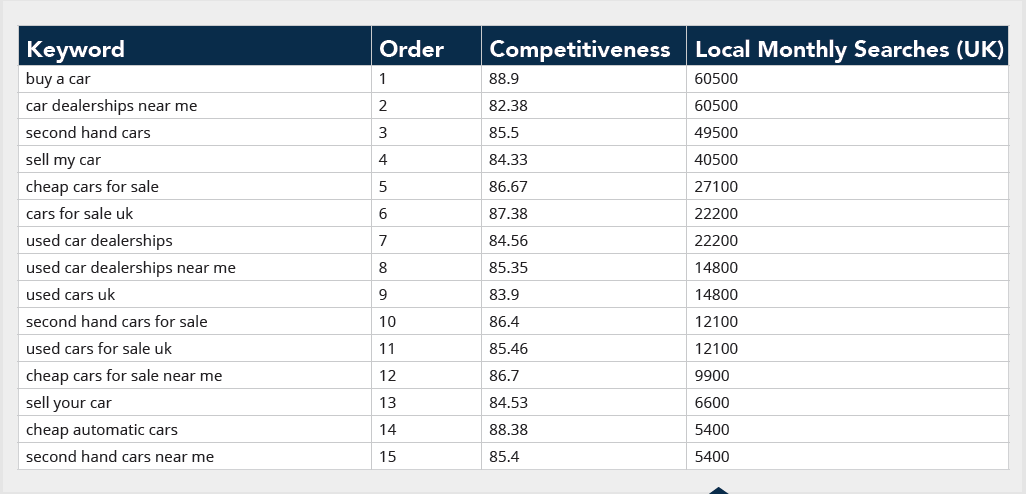 Here they are, the heavyweight keywords.
All high volume, all with a high competition score. There isn't much room for small dealerships to rank well on these.
But big brands? These are gold medals you can swing about as bragging rights.
What keyword opportunities are available for online car dealerships?
What kind of fruit do SEOs like best?
– Low hanging. 🥁
You might not get that, but it makes SEO's laugh. 'Low hanging' is a term used for easy to grasp keywords.
i.e. not-competitive keywords.
These are the keywords that smaller brands really need to focus on.
Enter the opportunity competition table: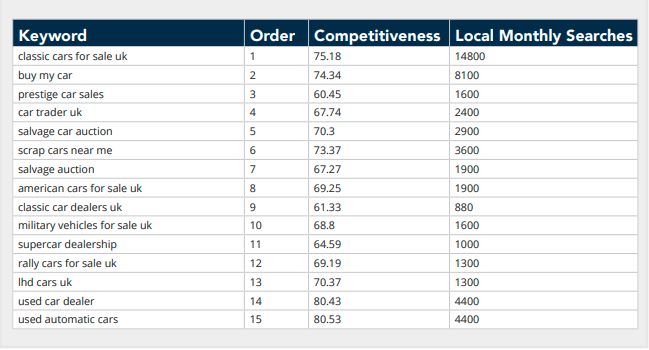 So, these auto dealership industry keywords have a half-decent search volume while still maintaining a low competition score.
They are scored 1-15 based on the balance between how many searches they get & how competitive they are.
i.e. low very competition but loads of searches take position No.1.
Notice many opportunity keywords are more specific than high competition ones.
Related – 2020 Car Manufacturers Report
How are online dealerships performing on social?
Social media is great for getting in front of consumers daily.
Each year we produce a social media rank that looks at who is making the greatest impact on social.
Here are the top 5 making waves:
autotrader.co.uk
pistonheads.com
arnoldclark.com
morgan-motor.co.uk
motors.co.uk
autotrader.co.uk have taken the top, with 444,200 social followers & 5,000,000 monthly brand searches, what are they doing right?
They post every day across all platforms
New tone/ approach for each platform (people behave differently on each)
Multimedia approach, just check out this Porsche Panamera Turbo S new feature video – cool car, users are likely to share
They run competitions, pushing for users to interact & comment
It's not boring, they are not just pedalling new car sales
A solid approach that will appeal to car lovers.
Related – How to create a wildfire of social shares (and sometimes links)
Which car dealerships have the best online reputation?
Having a good review profile is essential in any industry, never mind as a car dealership.
Having third party reviews embedded in your site is a means of reinforcing your reputability (from sites like Trustpilot).
It's now crucial for Google to see that you are a reputable business to rank well.
arnoldclark.com has taken the No.1 spot as the most reputable brand, with 78,588 reviews at an average of 4.7 stars.
They're quick to demonstrate their reputation on the home page
Here are the top 5 car sales market brands who are crushing it in terms of online reputation:
arnoldclark.com
autotrader.co.uk
carshop.co.uk
sytner.co.uk
evanshalshaw.com
Which car dealerships have the fastest page speed?
Page speed is essential. If you've got a slow site, both your conversions and rankings will suffer.
Here's what PageSpeed Insights identified as the top 5 fastest car dealership brands:
wizzle.co.uk
uk-car-discount.co.uk
carcraft.co.uk
carsite.co.uk
autoebid.com
Related – Why Is Pagespeed Important?
Do I have to pay for this report?
The car sales market report is free, its all part of our genius ploy to get you to pay attention to our search marketing agency.
Why? Because we really, really want to sign a car dealership client, we think we could do a very good job.
I can't find my brand, have you forgotten it?
Not all brands meet our thresholds when we put these reports together. If your brand is missing from this report, get in touch for more car sales industry.