What this Car Hire report is all about
This is our car hire market report exploring the digital performance of the top car hire websites in the UK.
Using this car rental industry report, you can see where your car hire company measures up against its competitors in the market, where you're succeeding, where you need to improve and some insights on how to do that. Being ranked alongside competitors helps you to benchmark your performance and gives you the best chance of improving year-on-year.
The car hire market report looks at key metrics such as SEO visibility and link authority scores as well as social scores. The aim with these car rental statistics is to give you an overall view of the market and your place within it, gaining actionable insights along the way.
Our Car Rental Market Analysis
Gathering data and putting it into tables is no good if nobody uses it. We know how important data analysis is for car rental companies, which is why we review our work to see where the wins are coming from. Let's jump right in and show you some of our best findings.
Car Rental SEO winners and losers
We ranked the websites from the car hire market report in terms of SEO visibility for this year compared to last year. All but one of the sites in the top ten have lost visibility year on year according to our car rental industry trends.
Which are the biggest Car Hire sites?
The top ten sites are:
1. enterprise.co.uk
2. hertz.co.uk
3. rentalcars.com
4. europcar.co.uk
5. sixt.co.uk
6. avis.co.uk
7. budget.co.uk
8. easycar.com
9. thrifty.co.uk
10. autoeurope.co.uk
Of this top ten car rental statistics, only Thrifty managed to increase their visibility year on year by 21%.
It's still good news for Enterprise who are now taking the lead despite a 27% drop after rentalcars.com fell into 3rd position due to losing 89% of their visibility YoY. Hertz has also moved up to 2nd place even after losing 22% visibility.
Which Car Hire sites have had the biggest growth?
1. zestcarrental.com (+156%)
2. thrifty.co.uk (+21%)
3. fireflycarrental.com (+183%)
4. recordrentacar.com (+193%)
5. nationalcar.co.uk (+21%)
Which Car Hire sites saw the biggest losses YoY?
1. rentalcars.com (-89%)
2. enterprise.co.uk (-27%)
3. hertz.co.uk (-22%)
4. europcar.co.uk (-21%)
5. easirent.com (-58%)
Keyword opportunities for Car Hire sites
While we can't account fully for the visibility losses across the board, it looks as though travel supermarket sites are coming through with the rankings for car hire terms. Kayak in particular is ranking highly for many terms including the top competition keyword, 'car rental'. They have had a 7.7% increase in visibility year on year.
As well as this, they have also implemented FAQ SCHEMA on to their pages. This type of structured data brings up questions underneath the listing which users can click on to get an immediate answer: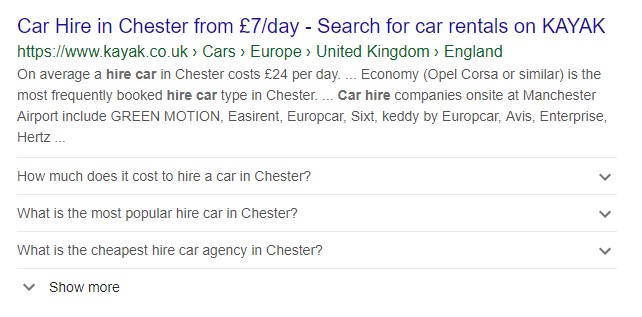 Google's localised results means their listing goes to their Chester page which has been optimised with relevant content and questions within the FAQ structured data.
Well done to Rentalcars.com who has also implemented this type of structured data, giving them a standout listing half way down the page for 'cheap car rentals':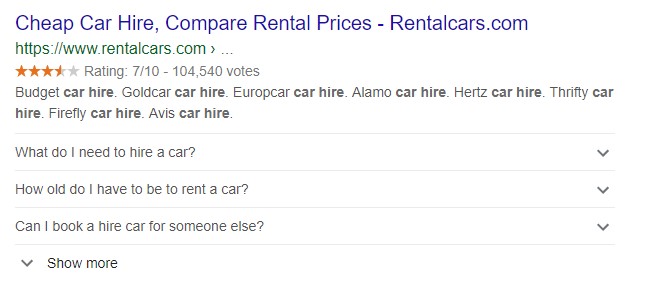 In this listing, we can also see their star rating which is also added through structured data.
For more information you can check out our post on how to dominate the car hire industry by targeting specific keywords.
Drive rankings with local optimisations
Easycar is ranking in position 2 for the term 'car rental near me'.
They have a well-optimised page for car hire in Chester which gives local information, tips on what to do and see in the city and nearby car hire locations.
This is great for user experience and building trust but has also helped them rank highly for a valuable term.
They have pages for 10 different countries, each with the most popular cities within. This means they have the potential to rank within the top 3 for any city a person is searching from in the UK, plus the search terms for country and city-specific searches such as 'car hire Madrid'.
P.S. We designed these pages for Easycar!
Car Rental Sites on social media
Social media plays a huge part in brand awareness. For car hire sites, reputation is everything, so owning your social space is extremely important.
Owned social scores are relatively low across the board, so if you step up your social game you could be on to a winner this year.
Enterprise is topping the social charts with the highest number of brand searches per month and a decent owned social score.
They use their Facebook to post video series such as 'Rental Essentials' and events they provide such as 'Enterprise Experiences'. However, they do not post very regularly.
On their Instagram account, they repost customer images which is a great way to gain new followers and broaden your audience.
Sixt has the highest owned social score of all the brands, with a good number of brand searches, too.
They clearly have a dedicated social team who spends time producing creative social posts in response to topical events.
We particularly like this one which they released around the time of the 'Storm Area 51' Facebook event: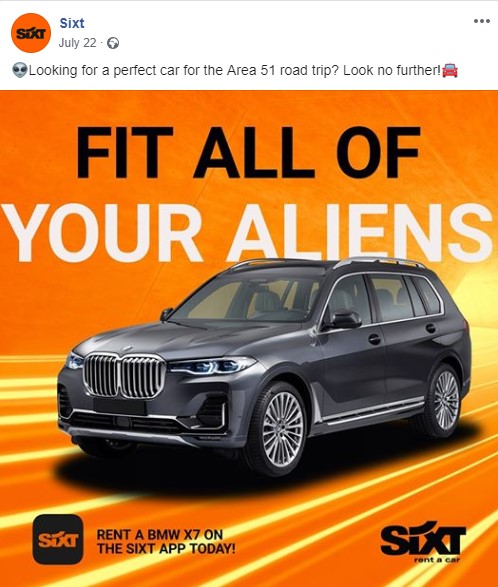 Keeping your posts relevant shows users that you're on the ball and proactively creating content rather than having posts already loaded and ready to go.
Which Car Hire sites have the fastest page speed?
You might rent fast cars, but you also need a fast site to go with them.
As well as providing a better UX, fast page speed can work wonders for your SEO as it makes your site easier for Google to crawl.
Using Google PageSpeed Insights, we calculated which sites were the fastest and these were the top five:
1. thrifty.co.uk
2. affordrentacar.co.uk
3. carrentals.co.uk
4. dollar.co.uk
5. carjet.com
It's interesting to see that the site with the highest page speed is also the only site within the top ten that gained visibility year on year.
You can read more on the importance of page speed here.
How much does this report cost?
The report is free to download. We produce these reports to get a better understanding of your market and also to provide free, impartial and invaluable information to retailers we might like to work with in future.
What happens if I can't see my brand in the report?
If you don't appear on the list above, that doesn't mean we haven't looked at your site. Our report contains the top 49 car hire sites, but we analyse the entire market to gain our insights. Ask, and we'll help you with your data.
Get in touch if you want to talk about any of our data or discuss our points in more detail.