What This Report Is About
We've parked our sights on the car industry in this report, analysing who's performing the best with their online marketing and SEO.
Inside, you'll find a breakdown of all your competitors, using KPIs you can't live without. These include visibility, page speed, keyword opportunities, and tons more.
if you're a car manufacturer trying to get ahead of the game, this report could be the most important document you read this year.
Do yourself a favour and get your hands on this free analysis today. Just use the form above.
The winners and losers online in the car industry
From a broad perspective, the car manufacturing industry isn't looking too grand. Overall, the market has decreased by -1%. Now, we understand this isn't a drastic decrease but it is still worth noting. For an industry of this size, a decrease of -1% could result in millions lost.
Our yearly winners include the likes of Nissan, Toyota, and Citroen. Who scores between a 17% and 28% increase year on year. Nice work!
Of course, there were also losers. These included Ford, Volkswagen, and Mercedes. These saw drops as much as -28%.
Want to see where your brand ended up? Want a closer look at where the rest of the competition landed? Get the free report now.
Which are the biggest car manufacturers online in 2020?
Here is a quick rundown of the top 10 sites:
ford.co.uk
bmw.co.uk
audi.co.uk
volkswagen.co.uk
nissan.co.uk
honda.co.uk
toyota.co.uk
vauxhall.co.uk
landrover.co.uk
mercedes-benz.co.uk
Which car brands have seen the biggest growth online in 2020?
nissan.co.uk (17%)
toyota.co.uk (14%)
citroen.co.uk (28%)
mitsubishi-motors.co.uk (92%)
fiat.com (347%)
Which car brands have seen the biggest losses online in 2020?
volkswagen.co.uk (-23%)
ford.co.uk (-16%)
mercedes-benz.co.uk (-28%)
vauxhall.co.uk (-16%)
renault.co.uk (-21%)
How are car manufacturers performing on social media?
Social media is a majorly important channel in the car manufacturer space. The market is highly sharable and as there are car enthusiasts all over the web, from personal blogs right through to big-name review platforms, there is a strong likelihood of going viral.
Because it's so important in 2020, we have put together a social league table of all the car manufacturer brands we could find. They're compared against each other in terms of social score and brand mentions.
In the report, we discovered that Tesla has the best social score when compared with any other car brand. This isn't surprising given the press coverage they get as a result of their revolutionary cars and projects. Not to mention their somewhat eccentric CEO.
Their posts on Instagram get millions of likes and engagement. However, I wouldn't say their content is anything revolutionary. They post very high-quality imagery and videos of new cars and energy-focused projects (like solar panels, etc.). I suspect the engagement is a result of the cult-like following they have amassed throughout the years.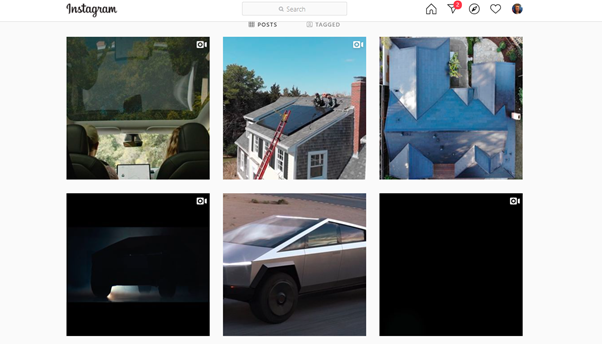 Twitter is also particularly good. They post better content on their Twitter than anywhere else. Probably because they know they get the most engagement from this platform.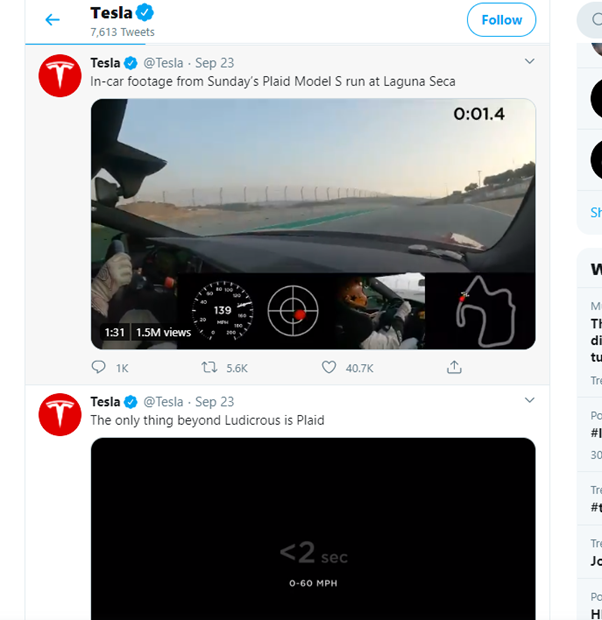 That in itself is a tip. If you're looking to get the most bang for your buck, focusing on one to two platforms where you get the most engagement is key.
Want to see what other car manufacturer brands are doing on social media? Get the free report now.
Which online car brands have the fastest page speed?
This was probably one of the best sections in this report.
Why?
Because we wanted to discover which car manufacturer had the best page speed and whether or not it correlated with their car's speeds. It's safe to say we were not disappointed.
Bugatti topped the charts with the fastest site. How on-brand given they produce the fastest car in the world – the Chiron Sport.
We shouldn't have to explain why page speed is important. With Google making it a priority in their algorithm in recent updates, making sure your site is speedy is essential.
Here's what PageSpeed Insights identified as the top 5 fastest car manufacturer brands:
bugatti.com
suzuki.co.uk
citroen.co.uk
arielmotor.co.uk
astonmartin.com
Read more about the importance of page speed here.
Is this a paid report?
No, this report is free. This report, like all others we produce, helps us gain a footing in specific markets and build relationships where needed. Feel free to download your free copy today.
Where is my brand?
Sometimes, brands don't meet the thresholds to be included. If you can't find your brand and want to be included, get in touch and we can put a personalised copy of the report and send it over.
If you want to know anything about the report or are curious about how we can create a bespoke SEO strategy for your brand, get in touch today.