We've been peddling away in this iteration of our sector report, investigating the online cycling market and how it's performing online. If you're an online cycling retailer, this is something you're going to want to see.
Inside, we break down the need-to-know metrics behind online campaigns, including visibility, page speed, and keyword opportunities.
If you're looking to improve your rankings this year and beyond, as well as gain a better understanding of the market, get the free report now.
The winners and losers in the online cycling industry
The cycling industry has been moving forward this year. It has increased in visibility by a total of 3%. Although this might not seem like a lot, for some of these brands, that has meant thousands in extra revenue.
Some brands have had an exceptional run in 2020. Brands like Halfords and Bikester have improved as much as 278%. These are the brands to watch if you're looking for inspiration.
Of course, as well as winners, they are loses in the midst of the industry as well. These include the likes of Evans Cycles and Source BMX.
If you want to see where your brand has ended up on our exclusive brand league table, download your free copy of the report now.
Which are the biggest online cycling brands in 2020?
Here is a quick rundown of the top 10 sites:
halfords.com
evanscycles.com
wiggle.co.uk
tredz.co.uk
chainreactioncycles.com
sigmasports.com
rutlandcycling.com
merlincycles.com
sourcebmx.com
planetx.co.uk
Which online cycling brands have seen the biggest growth in 2020?
halfords.com (10%)
sigmasports.com (69%)
bikester.co.uk (278%)
cyclesuk.com (297%)
rutlandcycling.com (38%)
Which online cycling brands have seen the biggest losses in 2020?
evanscycles.com (-23%)
sourcebmx.com (-37%)
tredz.co.uk (-11%)
giant-bicycles.com (-50%)
wiggle.co.uk (-4%)
What high competition keywords are available for online cycling brands?
Every industry has it's high competition keywords. These are the phrases that have a large volume of searches every month but also have incredibly large brands on the first page.
Getting these terms can be very beneficial for your business. It's getting them that's the hard part.
However, if you can identify the brands atop these search queries, you can learn what Google wants to see from sites in order to justify their rank. Because of this, we created a high competition keyword map, so you can see the competitive terms in the cycling industry and who is sitting in position one.
The most competitive term in the cycling industry is "mountain bike". This sucker gets over 201K searches and month and has a competitive score of over 80/100.
The top result (below the map pack) is Tredz. Despite having a dip in performance this year, they're still smashing it for the best term in the industry. Nice work! Other notable brands present on the first page include Halfords and Wiggle.
Want to see where your brand ends up on our list of competitive keywords? Get the free report above now.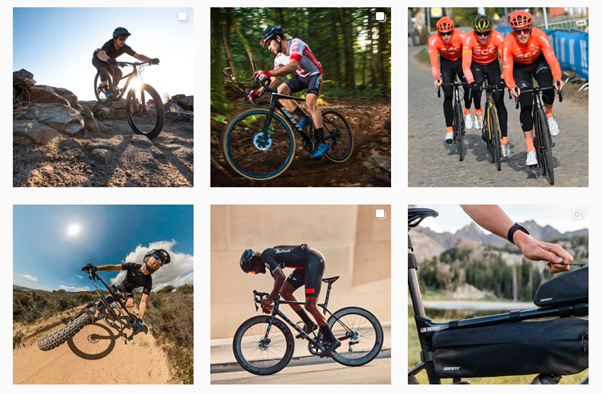 What keyword opportunities are available for online cycling brands?
As well as high competition keywords, opportunity keywords are also present in many industries. These are keywords which have high search volume but low competition. They're basically keywords that any brand can go for and have a good shot at achieving!
We put a list together of these keywords in the cycling industry, so you can see what's up for grabs. Here's a few elements we saw when investigating these keywords.
The Big Push for Local
One of the first things noticed when looking into the data behind some of the keywords was the local opportunities. A lot of the keywords had "near me" and "shop" on the end. For some bicycle brands, this could mean optimising their local pages, making sure their shops are appearing in the right place at the right time.
Want to see what else appeared in the opportunity keyword list? Get the free report now.
How are online cycling brands performing on social?
Social media is a must-have in 2020 and beyond. If you're lacking in the social department you're going to fall behind.
For this reason, we have produced a social comparison of all the cycle brands online. We've combined a range of metrics to create what we call an Owned Social Score. With this, you can see who's performing the best in terms of social.
In the cycling industry, the best social performer is Giant Cycles. They have an owned social score of 4544. This very large given that some big brands in this industry only have scores of around 500.
On their socials, they post a range of content. These mostly include action shocks of people using their bikes. Their posts get thousands of likes and perform very well.
They also post bicycle videos and various content formats to keep their audience engaged.
If you want to create a killer social strategy in 2020 and beyond, these are guys and gals to follow. If you want to see where your brand ended up on our social league table, get the free report now.
Which online cycling brands have the best online reputation?
Brand reputation is everything online. It matters for both your audience and Google, so making sure it's good is very important.
One way to judge the reputation of a brand is through Trust Pilot reviews. The more positive reviews a brand has, the better it might be.
Because of this important metric, we have created a brand reputation league table in the cycling report. This way, you can see who's performing the best in terms of reviews and learn from them (to improve your own).
Here are the top 5 brands who are crushing it in terms of online reputation:
chainreactioncycles.com
merlincycles.com
wiggle.co.uk
sigmasports.com
cyclestore.co.uk
Which online cycling brands have the fastest page speed?
Page speed is crucial in 2020. The majority of SEOs know that page speed is an essential element in Google ranking algorithm, so you can't afford to be skimping on speed.
As this is such an important metric, we have included a page speed league table in the report. Take a peak and discover how to match up to the competition.
Here's what PageSpeed Insights identified as the top 5 fastest cycling brands:
evanscycles.com
wiggle.co.uk
merlincycles.com
customriders.com
wheelies.co.uk
Read more about the importance of page speed here.
Do I have to pay for this report?
All our reports are free. We use them to build relationships with companies in specific industries. Feel free to download your free copy using the form above.
I can't find my brand?
If you can't find your brand on the report, you needn't worry. We can put together a personalised report featuring your brand and send it to you asap. Simple get in touch and we'll sort something out.
If you want to know anything about the report or are curious about how we can create a bespoke SEO strategy for your brand, get in touch today.