We've formulated a large report on the online door seller industry, identifying those who have left their SEO strategy wide-open and those who have it locked tight.
This report will cover the industry playing field comprehensively, looking at a wide range of factors that contribute to the SEO efforts of a large number of brands.  Combining expert accounts on page speed, visibility, and keyword analysis, the report compares the winners and losers year-on-year.  Additionally, lesser-used metrics such as social score and brand reach are thrown into the analysis – something many other reports fail to offer.
Download the industry report now and learn how you can tighten the locks on your SEO strategy to boost traffic, increase profits, and grow your business.
The Winners and Losers in the Doors Industry
Across the door industry, results are a little mixed. With the majority of online door sellers, visibility has fallen, with some brands losing as much as 44%. However, there are some diamonds in the rough, with one brand achieving a staggering growth spurt of 6405%!
Want to find out what they're doing right? Download the report now.
Which are the biggest online door sellers in 2020?
Here is a quick rundown of the top 10 sites:
doorsuperstore.co.uk
jeld-wen.co.uk
justvaluedoors.co.uk
leaderdoors.co.uk
ukoakdoors.co.uk
doorsonlineuk.co.uk
oakwooddoors.co.uk
todd-doors.co.uk
vibrantdoors.co.uk
internaldoors.co.uk
Which Online Door Sellers Have Seen the Biggest Growth in 2020?
doorsuperstore.co.uk (6445%)
anglianhome.co.uk (75%)
justvaluedoors.co.uk (192%)
duration.co.uk (95%)
expressbifolds.co.uk (134%)
Which Online Door Sellers Have Seen the Biggest Losses in 2020?
travisperkins.co.uk (-23%)
ironmongerydirect.co.uk (-27%)
jeld-wen.co.uk (-25%)
internaldoors.co.uk (-53%)
oakwooddoors.co.uk (-42%)
Keyword Opportunity for Online Door Sellers
Without a doubt, Door Superstore is the brand to beat. They've had explosive growth that has caused them to blow the competition away. Their visibility score of just 38 has increased to an impressive 2487 in just one, single year. If there's one brand you should be keeping an eye on, it's doorsuperstore.co.uk.
Doorsuperstore.co.uk is ranking at position 3 for the second most competitive keyword in the industry – 'internal bifold doors'. They're ranking just behind big stores such as Wickes, so should definitely keep up the good work! For the third most competitive keyword in the industry – folding doors, doorsuperstore.co.uk is also ranking at position 3. Again, this is just behind big sites, such as Amazon. This site is definitely one to keep an eye on.
Vibrantdoors.co.uk is also worth noting as they follow Door Superstore closely with some high-value keywords. Watch this brand as you may see them surpass their competition in the months to come!
Buying Guides
Producing buying guides for your audience is an excellent way to help them move along the buying process quicker. In the door industry, it is fair to assume that consumers will not be experts, so they're going to want to research and find guides to help aid their decision.
The highest opportunity keyword "pocket doors" presents a range of different results, including buying guides like the one pictured below.
If online door sellers are to open up more opportunities on Google, they're going to want to start producing high-quality buying guides that demonstrate authority and expertise in this area.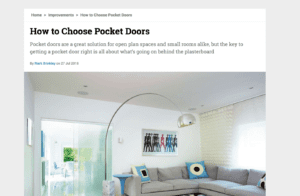 Top of Funnel Filter Pages
Top of funnel pages are an excellent way to tackle the issue of intent that comes with SEO. We've implemented these with previous clients, and they've worked a treat, achieving bounce rates less than 10%. Clearly, in respect to online door sellers, Google is favouring them for certain keywords.
High opportunity keywords such as "Aluminium bifold doors" presents results such as the screenshot shows below. These filter pages tackle the issue of when a consumer is searching for a specific type of door but doesn't know what they need in terms of sizing and design.
If the brands in our analysis were to start creating large top of funnel pages, they could not only improve their bounce rates drastically, but give their site a major boost in visibility too.
Online Door Sellers and Social Networks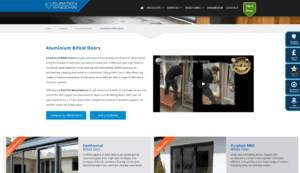 Social media is an essential for brands if they are to get ahead of the curve and stay relevant in 2020. Social media has exploded in the last few years and now it's more important than ever to have a presence on the various platforms available.
In our expert analysis we examine the brand reach and social scores of top brands – something often missed by other industry reports.
Leading the pack with a brand reach score of 22,200 and a social score of 16 is todd-doors.co.uk. A quick glimpse of their socials tells a lot. They have 8,923 followers across 4 different platforms and post a variety of content. There are engaging videos of their warehouse, product offers, and pictures of the team, all of which bring people closer to the brand.
Internaldoors.co.uk has the largest brand reach score, totalling to 110,000. However, their social score is particularly low, coming to a total of 3. Despite lots of people searching for their brand, they don't seem to be very active on social. If they're looking to boost this area and absorb more traffic, maybe they should take a leaf from Todd Doors' book.
When looking at social score only, vufold.co.uk is the first through the door with a score of 29. So, what have they been doing so well? Firstly, they have a combined follower count of 14,837, the largest of any brand. Upon looking at their socials, they post lots of informative and engaging content, including blog posts, images, offers and videos. If you're looking to up your social game, these are definitely the brand to learn from.
Which Online Door Sellers have the Fastest Page Speed?
It's well documented that consumers are impatient; they want their information and they want it fast. Websites need to be making sure that their servers and on-page optimisations are up to scratch if they are to keep up with the fast-pace of the modern world.
Without fast loading times on their website, brands will see bounce rates rocket, conversions drop, and SEO efforts close off. So, getting this element right is a must.
Here's what Page Speed Insights identified as the 5 fastest brands:
direct-mirror-doors.co.uk
sliding-doorstuff.co.uk
climadoor.co.uk
marleyfoldingdoors.co.uk
doors2floors.co.uk
Read more about the importance of page speed here.
Is this a paid report?
The simple answer – no. All our reports are free to whoever can make use of them. We collect data around a lot of different industries and don't believe it should be hidden from the public. Sharing is caring, so we take pride in producing these reports as a free asset for all.
I can't find my brand, what do I do next?
We're very comprehensive with where we source our data, but every now and again, things can get missed and brands don't make it on to our analysis. If you're brand is missing, get in touch immediately and we'll send you a custom report with all the information you need.
If you want to know anything about the report or are curious about how we can create a bespoke SEO strategy for your brand, get in touch today.