What this Fitness Equipment Market Report is all about...
We've been putting in the work this year, researching all there is to know about the online fitness equipment industry. In this free sector report, we unveil all the inside tactics this market is using to improve SEO and online performance. With it, you can slim down your marketing strategy and be in a fitter state to take on 2022
When you download your free copy, you'll get a bird's eye view of a range of useful metrics, such as visibility, keyword opportunities, and page speed. All your big competitors are featured, so you can learn from the best and mimic what they're doing well (and avoid what they're doing wrong).
If you're looking to sprint with confidence into Q2 and beyond in 2022, this report could be the coach you've been looking for. Fill in your details using the form above and get your free copy today.
How we choose brands for the Sportswear Salience Index
Our process first consists of curating a list of targeted keywords that most brands would want to target within the industry. Think short tail examples like "dumbbells" "home gym" etc. We search across these keywords to find which brands competitively ranking in the space. Excluding the huge multi category retailers like Amazon, what's left make our top 50 fitness equipment brands.
State of the marketplace:
A point to make: one of our leading metrics within this report in Searchmetrics Organic visibility score. It gives a yardstick measurement of search engine visibility & ranking power. When we bring up organic growth, we're referring to this specific metric
Over the last year, the marketplace has grown a very positive 29% organic visibility growth YoY. Likely in relation to the huge surge of demand created during peak pandemic. It makes sense that brands have re-invested profits back into more robust digital strategies. If you brand isn't growing at this rate, your falling behinds the curve. At present, 21 of the 48 biggest brands are achieving this sort of growth & above. 35% of brands haven't grown at all or seen losses in organic visibility.
Who's leading the UK Fitness Equipment Market?
Atop the organic visibility table, we have the following brands:
decathlon.co.uk
powerhouse-fitness.co.uk
fitness-superstore.co.uk
fruugo.co.uk
newitts.com
mirafit.co.uk
physioroom.com
sweatband.com
lifefitness.co.uk
gymequipmentsuperstore.co.uk
These are the big honchos in the industry. You'll see them duking it out in the SERP's for the most competitive industry terms.
Two brands to take note of from this list: newitts.com & lifefitness.co.uk. Each climbing over 10 positions in the organic visibility table.
Who else won big over the last 12 months?
We always pick out a top 5 winning brands in our reports, these are the brands who've been able to grow their organic visibility score the most. These are:
decathlon.co.uk
fruugo.co.uk
newitts.com
lifefitness.co.uk
nordictrack.co.uk
Major props top these guys, you have 💫 transcended 💫 . You're literally doing a great job, well done.
Customer satisfaction / best rated brands
We take a look at trust pilot profiles to see which brands are rated most highly by their customers. The average star rating in this industry is 4.1. 3/10 brands achieve less than this.
Who garners the best reviews on trust pilot?
Below are the top ten most well-reviewed brands:
decathlon.co.uk
sweatband.com
physioroom.com
mirafit.co.uk
fitness-superstore.co.uk
fruugo.co.uk
physicalcompany.co.uk
jtxfitness.com
onepeloton.co.uk
jllfitness.co.uk
Leaders in social media
We look across a brand's total social following to help determine its online digital brand reach. Which brands have the greatest gross following?
onepeloton.co.uk
rogueeurope.eu
technogym.com
nordictrack.co.uk
decathlon.co.uk
Leaders in digital brand reach
To determine "digital brand reach" we combine both total gross social following and monthly brand searches (within Google). Here are the 10 brands leading the charge:
decathlon.co.uk
exercise.co.uk
kettlebells.co.uk
gymequipment.co.uk
fitness-superstore.co.uk
mirafit.co.uk
powerhouse-fitness.co.uk
nordictrack.co.uk
strengthshop.co.uk
physioroom.com
Trending product table & search trends
We look at what products have been trending or receding in the previous quarter. Here are both the tables from the report: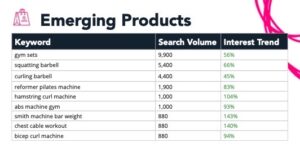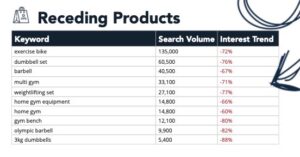 Is This Report Free or Do I Have to Pay? 

Yes, this report is 100%. All you have to do to get unlimited access is enter your information at the top of the page.
Who Are the Largest Online Fitness Equipment Retails in 2019? 

These are the largest fitness equipment retailers on the internet in 2019:
<ol>
<li>Physioroom.com</li>
<li>Fitness-superstore.co.uk</li>
<li>Gymequipment.co.uk</li>
<li>Powerhouse-fitness.co.uk</li>
<li>Sweatband.com</li>
<li>Strengthshop.co.uk</li>
<li>Technogym.com</li>
<li>Nordictrack.co.uk</li>
<li>Wattbike.com
<li>Concept2.co.uk</li>
</ol>
Why Isn't My Brand Featured on This List?  

We have a minimum threshold that we consider when it comes to choosing the brands that get featured on in our exclusive reports. If your brand isn't included, it might have not met our requirements in terms of visibility. However, if it does meet the threshold and still isn't here, get in touch and we will re-run the analysis.  
Which Brands Have Seen the Largest Decline in Visibility in 2019? 

These brands have seen better days. Here's a list of the brands that have seen the biggest decline in their visibility: 
<ol>
<li>Kettlebells (-66%)</li>
<li>Gym Kit UK (-61%)</li>
<li>Sweatband (-58%)</li>
<li>Watson Gym (-39%)</li>
<li>Fitness Warehouse (-37%)</li>
</ol>
How Will I Receive My Fitness Equipment Report? 

You'll receive your report via email. All you have to do to claim your free report is input your information above, including your best email, and we'll shot over the report instantly.  
Which Brands Received the Biggest the Largest Increase in Visibility in 2019? 
These brands have been fortunate to receive an increase in overall visibility this year. Copy and replicate what they're doing and boost your SEO today!  
<ol>
<li>Matrix Fitness (769%)</li>
<li>Jordan Fitness (624%)</li>
<li>Athlete Shop (406%)</li>
<li>Body Sculpture (270%)</li>
<li>Mira Fit (215%)</li>
</ol>