Our 2020 UK gift industry statistics in a nutshell...
What this gifting report is all about
It's that time in the new year where we peek through the wrapping paper to see how the online gift market is performing with their digital marketing.
This comprehensive report contains everything you need to know about the gift industry. It investigates all the basics, including page speed, visibility on the SERPs, and keyword opportunities. You'll also get to see more exclusive metrics, including digital reach and online brand reputation.
If improving your website's performance and making more cash is at the forefront of your mind this year, download this report now. Go to the top of this page and fill in your information to get a copy.
Want to see what's inside? Keep reading below.
What are we classing as a gift brand?
'Gifting' is a spectacularly broad term. After all, near anything could be gifted. Within this 2022 Gift Salience Index, we do feature an array of different brands. However, the brands featured target gifting keywords. Think search terms like "gifts for him" or "unusual gifts".  Across these terms search engine results return brands in four distinct categories. These are;
Gift specialists: i.e. Not On The High Street. These guys live and breathe seasonal holiday's, stocking fillers & the rest.
Experience days: i.e. Virgin Experience Days.
Personalised gifting: i.e. PhotoBox
Hampers: i.e. cheese, wine, biscuits, and perhaps a delightful wicker basket. Everyone loves them.
And of course, there are the few that cover most, if not all of the above.
Who's winning in the gifts industry?
Here are our top 5 winners of the year in terms of overall organic visibility growth:
notonthehighstreet.com (+72%)
buyagift.co.uk (+27%)
snapfish.co.uk (+35%)
wickeduncle.co.uk (+258%)
rexlondon.com (+82%)
A clear outlier here is Wicked Uncle, scoring an amazing 258% markup in just 12 months. Incredible work. Seemingly this is a dramatic rebound following a hit in late 2019. See Below: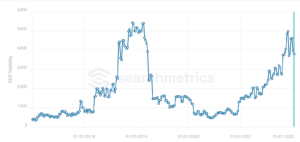 Nevertheless, congrats to the team on clawing the visibility back to former glory.
Leaders in brand
Big brands here that you'd expect to be leading the way in terms of digital brand reach:
notonthehighstreet.com
photobox.co.uk
gearbest.com
funkypigeon.com
cardfactory.co.uk
Gear Best is a standout performer from this list given their huge total social following. Social follows across Twitter, Facebook & Instagram amount to 4.8 million followers. An industry leader in that respect.
GearBest: mountain of links, low impact
It's not success in all areas for Gear Best. Their link profile is huge in comparison to their overall organic visibility score. Potentially, their link profile and strategy is spammy, old, or otherwise suboptimal, and search engines see that. Regardless, it could also mean you're a sleeping giant in search. Get an outside opinion on tech, content, and links.
Market grows 4% YoY
We measure average growth across the industry. This is the total organic visibility shift across all brands. Within the report, you'll see this referred to as "total industry variance".
From 2021 to 2022 the industry grew 4%. Consider this growth the absolute minimum to expect from your own growth. If you're not attaining at least this, you're falling behind.
Demand for gifts rise in Q1 2021
COVID has thrown hundreds of industries seasonality massively out of whack. Thankfully, search volume across the gifting industry has remained consistent with historical data throughout lockdowns, new variants, and even dubiously legal garden parties. Over Q1 2021 there was a notable bump in interest over previous years. We were in a state of lockdowns at this point in time, so it'll be interesting to see if the trend remains.
Average mobile page load speed is half as fast as desktop across the industry.
We gather both mobile & desktop page speeds for all brands to give a rank on page speed UX. Interestingly, if we look at the median score of desktop load speed VS mobile there is a huge disparity, with mobile load times scoring less than half as well as desktop. We won't again bang the drum of mobile page speed importance, it's 2022, everyone gets it.
   How much does this report cost?
Nothing – all our reports are free to download. We aim to provide useful insights into industries we would like to work with and believe the data we find should be publicly available, free of charge.
How many brands are featured in the report?
This year's gift report features the top 48 brands in the UK.
I can't find my brand, what do I do?
If you are struggling to find your brand on the report, there's no need to worry. Get in touch with us asap and we can send you a personalised copy of the data.
Which are the biggest online gift sellers in 2020?
Here is a quick rundown of the top 10 sites:
<ol>
<li>notonthehighstreet.com</li>
<li>moonpig.com</li>
<li>prezzybox.com</li>
<li>iwantoneofthose.com</li>
<li>funkypigeon.com</li>
<li>buyagift.co.uk</li>
<li>cardfactory.co.uk</li>
<li>zavvi.com</li>
<li>gettingpersonal.co.uk</li>
<li>firebox.com</li>
</ol>
Which online gift sellers have seen the biggest growth in 2020?

<ol>
<li>buyagift.co.uk (55%)</li>
<li>zavvi.com (59%) </li>
<li>firebox.com (48%)</li>
<li>thegiftexperience.co.uk (311%)</li>
<li>iwantoneofthose.com (15%)</li>
</ol>
Which online gift sellers have seen the biggest losses in 2020?
<ol>
<li>gearbest.com (-97%)</li>
<li>prezzybox.com (-23%)</li>
<li>gettingpersonal.co.uk (-30%)</li>
<li>notonthehighstreet.com (-9%)</li>
<li>findmeagift.co.uk (-23%)</li>
</ol>
Who are the winners and losers in the online gift industry?

The online gift industry is looking very positive with the majority of top brands achieving consistent and noticeable growth year on year. Overall, the industry has grown by 7%. When looking at specific brands, there are easily apparent winners and losers. For example, personalise.co.uk has experienced the largest growth, growing 327% YoY. Quirkity.com, on the other hand, has lost almost all its visibility, declining 100% YoY.