What To Expect From Our Holiday Cottages Industry Report
Within this marketing report we have taken a comprehensive look at the industry leaders to see who has the best online presence. We've analysed the top 50 websites in the market, which includes holiday cottages, booking engines, and holiday lettings.
Looking at how each brand is performing across key metrics, such as SEO visibility, social brand reach and page speed, we can get an idea as to who is performing well. In the report, you will notice different brands in each table, as we highlight the best performers in each area of digital marketing. Certain sites will excel in some areas, whilst struggling elsewhere.
Download the report for free and find out where you stand compared to your competition. For more insight, keep reading to see what opportunities and pitfalls we found.
The Winners And Losers Of Holiday Cottage
It's been a bit of a mix in the top ten. Some have obviously been improving their SEO amenities, whereas others haven't been keeping on top of their facilities.
Which Are The Biggest Holiday Cottage Sites In 2019?
The top ten Holiday Cottage companies online are:
booking.com
travelsupermarket.com
nationaltrust.org.uk
sykescottages.co.uk
holidaylettings.co.uk
holidaycottages.co.uk
homeaway.co.uk
historic-uk.com
hoseasons.co.uk
english-heritage.org.uk
Booking.com is in a run of form and remains market leader, despite only a 1% visibility increase.
Travel Supermarket has managed to keep second place, despite a 15% visibility drop.
The National Trust has seen a big improvement this year, with a 30% increase bringing them in at third place. But Sykes Cottages have done even better, gaining 65% visibility taking them from 8th place last year to 4th place in 2019.
Holiday Lettings comes 5th after losing 23% visibility.
The biggest loser in the top ten is Home Away, who has lost 48% of their visibility compared to last year, which has seen them drop from 3rd place to 7th – they really need to do some housekeeping.
Which Holiday Cottages Have Seen The Biggest Growth In 2019?
sykescottages.co.uk (+65%)
nationaltrust.org.uk (+30%)
english-heritage.org.uk (+22%)
historic-uk.com (+17%)
cottages.com (+15%)
Which Holiday Cottages Have Seen The Biggest Losses In 2019?
homeaway.co.uk (-48%)
holidaylettings.co.uk (-23%)
hoseasons.co.uk (-11%)
classic.co.uk (-18%)
cottagesdirect.co.uk (-41%)
Keyword Opportunities For Holiday Cottages
Within this market, as part of the travel and tourism sector, it's no surprise that travel booking engines are also competing in the SERPs for the same keywords.
One of the issues that come with keywords in this sector is the fact that many of the keywords are also company names, making it hard to compete. For instance, one of the high competition keywords we found was "lodges with hot tubs" and it comes as no surprise that lodgeswithhottubs.org.uk comes out on top for this.
Keyword Trends
We found a number of trends within our high competition and top opportunity keywords. These could be great places to start when looking at keyword strategies and could lead to some quick wins. You should look for keywords including:
Location (Yorkshire, Lake District etc)
Hot Tubs
Holiday type (dog friendly, luxury etc)
Answer The Whys
Looking at the sites that rank well for both high competition and top opportunity keywords, those that tended to do well across the board were those that had additional content.
Sykes Cottages have content for each of their pages that rank, answering questions like "why visit X"; "Why a hot tub cottage or lodge" and "Why a dog-friendly cottage". This content could explain their crazy growth this year. Although, the content isn't enhanced and so they could easily lose out if they leave everything where it is. You can read our guide to writing enhanced copy here.
Hot Tub Hideaways have some really good enhanced content. They describe the location and describe attractions.
Location, Location, Location!
For those that haven't already joined Hotel Ads on Google, this could be an easy win. In fact, many smaller, local companies are doing really well here. Just take a look at the search for "Lake District Cottages":
This SERP feature sits in the prime real estate of 'Position Zero', above the traditional results. As you can see, all the companies shown are local businesses. So, registering your holiday cottages with Hotel Ads can jump your brand way up the SERPs.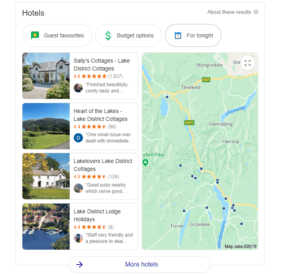 Social Media For Holiday Cottages
Social Media is a ubiquitous part of everyday life and shouldn't be ignored. Social should be embraced and used to your advantage. As 81% of people booked their holiday online in 2018, according to ABTA, Social Media can be used to discover your customer's wants and needs, as well as marketing towards them.
Booking enjoys the best location in the social charts with the highest number of brand searches and the highest owned social score. They are way ahead of any competition.
They are very active across all platforms, posting topical pictures, beautiful locations, competitions, and (on Facebook) some of their own blog posts. They tend to engage with some customers, though they ignore some that look like bots. On Instagram, they repost influencer's posts of locations. They are also making a good use of stories, showcasing tips, inspiration, unique places, and more.
Hoseasons come second for brand searches, but comparatively, their owned social score is shocking. It looks like they have let their social slip this year; their YouTube has a good following, but they haven't been posting regularly. On Instagram, they are not utilising stories and Facebook is used solely for polls and competition. Whilst these might initially get a good amount of engagement, if it's all that is posted, people are likely to lose interest.
Which Hotel Cottages Have The Fastest Page Speed?
If page speed isn't a priority, it really should be, as half of visitors will leave if forced to wait more than three seconds.We all know a slow check-in can frustrate, the same seems to be true for booking.
Not only is page speed important for potential customers, but a good page speed also makes it easier for Google to crawl.
We have identified the fastest holiday cottage sites as:
countrycottagesonline.com
sallyscottages.co.uk
independentcottages.co.uk
holidaylettings.co.uk
Simplyseaviews.co.uk
Do I Need To Pay For This Report?
Of course not! All our reports are completely free. We create these reports to provide unbiased insights into various sectors. This helps us to understand the markets we love to work with as well as providing useful insight.
What if my brand is not featured in the report?
Don't worry, just because you're not featured in the report, doesn't mean we haven't thought about you. We simply can't fit everyone in. If you want to see how you're doing, just let us know and we can provide a personalised report for you.
If you have any questions about our report or analysis, Get In Touch. We'd be happy to talk to you about it.