What Is The Jewellery Market Report 2020?
Catching a customer's eye online isn't just about having a pretty piece of jewellery. It's about being in the right place, and that means being high up in the Search Engine Results Pages (SERPs), being active on social media and much more.
In this report, we have taken a look at the top online jewellery stores and watch specialists to see who has the best shine online. We analyse how each brand is performing across various key metrics such as organic visibility, page speed and social brand reach. Some of these metrics are exclusive to us – you'll only find them in our reports.
What Will I Get Out of the Report?
The Jewellery Market Report 2020 gives online jewellery brands useful insight into how their digital marketing efforts measure up to the competition; a snapshot of the jewellery market's digital performance for the year, trends and resulting opportunities.
If you're looking to improve your online visibility and beat out your competition, this report will provide you and your company the fuel to launch a successful digital strategy. Download the free market report to find out which areas of your existing online strategy need polishing up.
For more insights in the industry read on.
The Winners and Losers in the Online Jewellery Market
Although the industry is down overall in Year on Year Visibility, there have been some impressive wins. The top twenty have had quite a shakeup, with very few brands retaining their place from last year.
Which Are the Biggest Jewellery and Watch Retailers In 2020?
The top ten ranked jewellery and watch brands in terms of their online visibility are:
hsamuel.co.uk
beaverbrooks.co.uk
ernestjones.co.uk
goldsmiths.co.uk
pandora.net
watchshop.com
accessorize.com
tiffany.co.uk
fhinds.co.uk
claires.com
H Samuel retains their position in first place this year, despite their visibility dropping by 18%.
Beaver Brooks have done really well this year, climbing to second place from sixth, thanks to an increase of 33% in their visibility.
Third and fourth place have switched around, even though they have both seen losses. Goldsmiths have dropped down to fourth with a 20% visibility decrease. Despite a visibility drop of 3% Ernest Jones have taken the third place. Pandora have also seen a loss this year, dropping visibility by 38%. This has caused them to drop to fifth place from second. They really need to put some shine into their SEO strategy.
Which UK Jewellery Retailers Have Seen the Biggest Growth In 2020?
beaverbrooks.co.uk (+33%)
fhinds.co.uk (+63%)
thejewelhut.co.uk (+46%)
watchfinder.co.uk (+49%)
mytheresa.com (+85%)
Which UK Jewellery Retailers Have Seen the Biggest Losses In 2020?
pandora.net (-38%)
goldsmiths.co.uk (-20%)
claires.com (-20%)
hsamuel.co.uk (-18%)
accessorize.com (-13%)
Keyword Opportunities in the Jewellery Market
There's plenty of scope to climb the SERPs by focusing on keywords. Some of the keywords identified have search volumes as high as 4.4k a month but have an easy difficulty rating. These are definitely up for grabs in the upcoming year. Two trends that we have spotted in the opportunity keywords are:
Colours
Sports Watches
With colour keywords, such as "Gold Watch", Beaverbroooks tend to do well and is often in the number one spot. Watch Shop also tend to be in the top five. However, both these brands lack content on the category pages, so could easily lose out on these keywords if another brand targets them.
With sports watches, those that are doing well tend not to be jewellery and watch retailers. Instead broader companies are ranking. The only specialist retailer in these results seems to be Pocket Watch.
A few of the search terms are "best X". Blog posts are performing well for these searches, so once again barely any jewellery and watch retailers in the SERPs.
Therefore, we have identified the following trends and opportunities:
Jewellery Market Trends
Rich Snippets
There are numerous rich snippets with a lot of the opportunity keywords. Images, shopping, maps and featured snippets are all up for grabs. The advantage of getting these rich snippets is that it will put you above position 1 in the SERPs, regardless of where you rank in the first couple of pages. Just look at the SERPs available for "gold watch":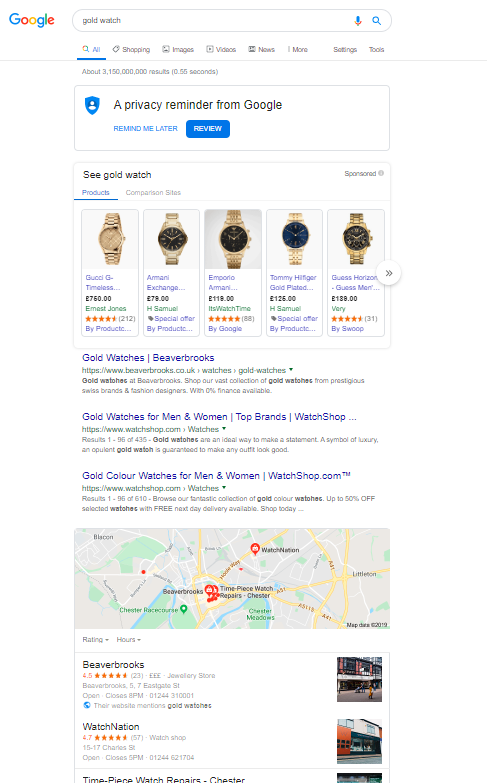 If you want to learn how to optimise for rich snippets, take a look at our SCHEMA For eCommerce Sites post.
Enhanced Content
Content is king. However, many of the high-ranking pages have little or no content. If a brand that is lower down in our visibility charts focus on the opportunity keywords and write enhanced content, chances are they will see their rankings drastically improve, this is especially true for keywords that involve colour. Sports keywords might be a little harder as the non-specialist stores tend to have a bit of content.
Beaverbrooks are ranking high for various keywords. They have the number one spot for "gold watches for men" and "gold watches" and are in third place for "rose gold watch", however, their category pages that are ranking for these terms have just one sentence of copy. Unless they add a bit more sparkle to their copy, they could easily fall down the rankings.
Blog Content
Although some of the brands that are ranking have blogs, it would appear that they are not targeting keywords on here. For example, when searching the keyword "best cycling watch", page one of the SERPs is dominated by cycling retailers and magazines, plus tech retailers. There are only two watch websites on the first page, both of which are not retailers. In fact, none of the brands we feature show up for this keyword until past page five.
"Best X" lists are also a good way to get a featured snippet. Take a look at the snippet for "hunting watches" below:
So, if a brand focuses their blog on opportunity keywords that are being dominated by brands not in the industry, they should see their rankings improve.
Social Media Performance in the Jewellery Industry
Browsing online is a ubiquitous part of our daily lives, and it is no different for the jewellery sector. Social media gives brands the chance to really shine. They can show their values, showcase their products and entice new customers whilst reaching out to current customers. If you're not doing too well in the SERPs, getting brand awareness on social media is a great way to get in front of potential customers, especially of the younger generations.
Topping our social charts by far is Pandora – this brand has a huge amount of brand searches and a good owned social score. On Facebook they are very active, posting competitions, new products and are responsive to comments. Instagram is similar, with great images of their products and they make good use of stories. Another social platform where they do well is YouTube; they have short videos of new collections that get a lot of views in a short time. On this platform, they also have a brand ambassador playlist, which shows that they are making use of the influencer trend.
Swarovski is also doing well on social, they even have their own hashtag #sparkdelight. On Facebook, they use this hashtag and posts people's individual stories with videos. Their Instagram is flooded with people wearing their jewellery, which includes celebrities at the Fashion Awards.
Coming in third in our social charts is Tiffany, who actually have a higher owned social score than Swarovski, but a lower number of brand searches. On Instagram, Tiffany are using stories well, not just showcasing new products but also having proposal tips and gift guides. They have some very pretty close up pictures of their products in their feed. They only have people wearing their jewellery when it is a campaign, such as Jeff Goldblum during the Tiffany's Mens Pop Up Shop campaign which included a Tiffany's motorcycle.
Which Jewellery and Watch Retailers Have The Fastest Page Speed?
Page speed should be a high priority for brands in the online jewellery market, as half of visitors will leave if forced to wait more than three seconds. People can be impatient online and if your site doesn't load quick enough, they will go somewhere else.
Page speed isn't just good for customers, but it helps search engines too. A fast page is easier for search engines to crawl, which will help you to climb the rankings.
We have identified the fastest jewellery and watch retailer sites to be:
laxwatchco.com
smoochrings.co.uk
warrenjames.co.uk
cavendishjewellers.co.uk
rotarywatches.com
Read more about the importance of page speed.
How Much is the Jewellery Market Report?
The report is free, like all of our consumer goods market reports. Simply fill out the form at the top of the page to download the full report. We create these reports as they help us to understand the markets that we love to work with. Therefore, we are happy to share our knowledge with those that may find it useful.
I Can't Find My Brand in the Report
Not to worry, just because you're not featured doesn't mean we haven't thought about you. Unfortunately, we simply can't fit everyone into our reports. If you can't find your brand but want to know how you're doing online, just contact us and we can provide you with a personalised report.
If you want to know more, we'd be happy to answer any of your queries or talk you through our findings. Get in touch, we'd love to help you out.
How much does this report cost?
Donut. Nothing. Nada. Utterly free.
Which are the biggest jewellery brands in the UK for 2020?
The top 10 jewellery brands in the UK for 2020 are (ranked):
1. Pandora
2. H Samuel
3. Goldsmiths
4. Ernest Jones
5. Accessorize
6. Beaverbrooks
7. Tiffany
8. Claire's
9. The Jewel Hut
10. Links of London
Which brands saw the most online growth throughout 2020?
While percentage figures are shown, this rank shows the biggest increases in visibility.
1. Pandora (47%)
2. Tiffany (48%)
3. Glamira (470%)
4. Blue Nile (293%)
5. Claire's (20%)
Which brands lost the most online visibility during 2020?
1. Ernest Jones (-33%)
2. John Greed (-75%)
3. Warren James (-63%)
4. Gemporia (-49%)
5. Swarovski (37%)
Why can't I see watch brands in here?
We run a different report on watches as their keyword set is quite different from the brands listed here. You can find the watch report here.
I'm still not on the list. How come?
It may be that your visibility is below the threshold needed to feature in the report. If that's the case, or you think we've made a grave error by missing you, let us know through our contact page.