What is this Discounters Market Report performance report about?
This is our Discount Stores Market Performance Report. We've analysed the top 42 discount store websites to see who's performing best for key performance metrics and where others could improve.
We look at various performance indicators across the board including SEO visibility and page speed as well as aspects which are sometimes overlooked such as social presence. In the report you'll also find the highest competition keywords in your landscape and the ones with the best opportunity. We've done our own analysis to highlight the biggest wins you can take from this.
The best way to read this analysis is by having the report open alongside. So, if you haven't already downloaded it, fill in the form above and get all the data delivered to your inbox.
Discount Stores winners and losers
It's been mostly losses for discount store sites in terms of visibility this year.
Who are the biggest Discount Stores?
The top ten sites were:
1. therange.co.uk (+8%)
2. wilko.com (-4%)
3. bmstores.co.uk (+8%)
4. tjhughes.co.uk (-11%)
5. poundland.co.uk (-43%)
6. homebargains.co.uk (-14%)
7. choicediscount.com (-13%)
8. poundstretcher.co.uk (-34%)
9. clearance365.co.uk (+383%)
10. savers.co.uk (+82%)
As can be seen from the above list, most of the retailers have lost visibility year on year. The Range is far ahead of all other competitors in terms of visibility score which was helped even more by their 8% uptake. The biggest win here has to go to Clearance365 who would have been in position 19 last year and managed to improve by 10 places to make it into the top ten quite comfortably. Poundland's visibility dropped dramatically, yet they've still made it into the top five. A similar year next year could see them move much further down, if they aren't careful.
Which Discount Store has grown the most in terms of visibility?
1. therange.co.uk (+8%)
2. bmstores.co.uk (+8%)
3. clearance365.co.uk (+383%)
4. charlies.co.uk (∞%)
5. poundshop.com (+171%)
Charlies went from zero visibility in 2018 to 1,395 at the time of data collection. It looks as though their site launched in April last year and they've already managed to make it into the top 15 retailers for visibility – a huge well done!
Which Discount Stores saw the biggest losses over the past year?
1. poundland.co.uk (-43%)
2. wilko.com (-4%)
3. qdstores.co.uk (-56%)
4. poundstretcher.co.uk (-34%)
5. tjhughes.co.uk (-11%)
Keyword opportunities for Discount Stores
Due to the nature of searches in this landscape, discount stores have to compete with sale sections on sites and outlet stores or retailers specific to selling discounted items in one area such as beauty or food.
However, there are ways to cut through the noise.
Google My business
If you haven't already, registering your company with Google My Business will help you to show within the maps in SERPs. You don't even need to be ranking on page 1 to be featured in the local map pack. Google will choose the most relevant local businesses for the location in which the user is searching.
This is the map pack that shows for the highest competition keyword 'discount store' from our office in Chester: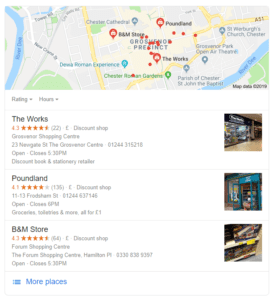 None of these companies is ranking organically in the SERPs, but through their use of Google My Business, they've dominated the real estate at the top of the page.
Adding Local Business SCHEMA can also enhance your listing if someone searches for your store name.
Find out more about SCHEMA for eCommerce sites with our latest guide.
Title Tags
We often advise people not to shy away from using the word 'cheap' – and it's clearly worked for some of these retailers who are ranking within the top 5 for the keyword 'cheap home accessories'.
Wilko, B&M and TJ Hughes are all ranking well for this keyword, with B&M and TJ Hughes both including 'cheap' in their title tag.
B&M is also ranking in position 1 for 'cheap home furniture'.
If you're struggling with title tags, use our SERP Snippet Preview Tool to show you exactly how your listing will look before you update your title tags and meta descriptions. There is also a guide to writing great title tags on this page.
Social media for Discount Stores
Social media is important for any eCommerce site, especially ones that have an emerging or growing online presence such as Discount Stores. For years, this has been thought of as a bricks and mortar sector, with customers enjoying the shopping process. However, with the rise in popularity of online shopping and mobile usage overtaking desktop, social media is more important than ever for this sector.
The Range is topping our social charts with the highest number of brand searches per month and an impressive owned social score.
Their channels mainly promote new products and offers available.
They also post regular competitions, encouraging people to like, share, comment and follow their page to be in with a chance of winning.
These are extremely popular and increase audience reach as well as gaining more engagement on your profile.
They also have a branded hashtag, #yestherange, which they use to identify customer images on Instagram and repost them.
This is another great way of making your customers feel a part of your brand and celebrating the ways in which they use your products.
Brand voice is key
Social media is the perfect place to show your customers your brand values, behind the scenes insights and help them to trust your company even more.
Make sure to use your channels to do more than just promote your products – sharing useful content, 'how-to' videos for your products or even customer testimonials can help to achieve the best for your brand image.
Which Discount Stores have the fastest page speed?
Fast page speed can be the difference between a customer staying on your site and making a purchase to them exiting straight away.
Not only is page speed a crucial UX component for your site, it also makes your site easier to crawl, making it one of Google's top ranking factors.
Using Google PageSpeed Insights, we analysed the page speed of the featured Discount Stores. The top five were:
1. hema.com
2. risuswholesale.co.uk
3. homebargains.co.uk
4. choicediscount.com
5. clearance365.co.uk
How much do I have to pay for this report?
Our reports are free, so you won't have to pay a penny. We produce market insight reports like this one the help provide data that will enable Discount Store sites to benchmark their performance against their competitors.
Why isn't my brand featured in the report?
Our data looks at retailers from across the board, but we only include sites with ample visibility. If you feel you fit the brief and we've missed you out, get in touch and we'll send across a personalised version of the report.
Don't forget to download the report if you haven't already. If you want to discuss this information in more detail, get in touch with us. We'd love to help.